Uglyboy Album Review
MMG Presents Self-Made Vol Wow one of the most… publicized (via twitter mainly) let's say, albums of the year is finally here. Maybach Music Groups Self-Made volume 2 (giving it the full name treatment) has hit the stores and iTunes this week, to a great response in its first week. Well im here to give the album that full Ijah Uglyboy album review treatment.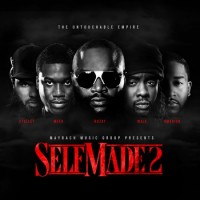 First off, im going to admit that yes im a big fan of the whole MMG movement and yes Self-Made Vol 1 was a big favourite of mine last year, even so im going to try keep my opinions in this review as unbiased as possible.  Nevertheless, im going to get straight into it, like Gunplay does on the powerfully named opening track Power Circle.  Now this is a track, that quickly sets the whole tone of the album, sounding a little similar to all the Maybach Music tracks on Rick Ross's solo albums, Power Circle does what it says on the tin for real! That shits powerful! Look forget it! I don't if I sound bias or not! This is easily going to be the most, easiest, and shortest album review ever! Had the album a day, All birds feat French Montana, Banger! Acting up feat Wale, Meek & French Montana Banger! Stalley and Rick Ross, on Fountain of Youth, one word… Nice!  Then couple that with that hard-hitting Black on Black feat Ace Hood, Gunplay & down south legend Bun-B, Jheeez! That's all I can say! Now I know many people raised an eyebrow or two (especially stateside) when MMG signed Omarion, but Yo! I must I have played M.I.A feat Wale like 10 times already today! This tracks smooth as hell! Plus im not even going to mention Let's talk & Bag of Money feat T-pain, cuz it's unfair, plus it's already done the rounds already so imma leave that banger out. Plus there's even more hard ass tracks, featuring T.I, Wiz Khalifa, and Kendrick Lemar that im not even going to get into! Fair play to Ross for not featuring himself and Meek too much on this album. As im sure the fear of over-exposure, must of played on his mind, especially considering  Ross and Meeks impending solo albums that are about to drop. For me this album somewhat an introduction to Stalley's articulate, intellectual wordplay. An introduction to Omarion as an MMG artist, and a re-introduction to Gunplay's crazy, hyped up drug infused rap style, oh let's not forget Wale's ability to just light up any track he features on!
Look buy the album! Bump it! Love it! Do your thing to it! Im done sorry if this seems rushed! Cuz it is, im missing valuable listening time, reviewing a classic! Enjoy!
MMG Presents self-made Vol 2; Hard as hell!
Ijah.uglyboy