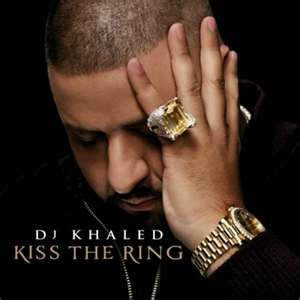 Ok he has been claiming "We the best" since joining Terror Squad as there DJ, to thus far as he embark on another one of his solo projects. Now with his 6-studio album about to hit stores, is this the king of collaborations, best offering yet? Well of course this is the Uglyboy Album review, and yeah like Khaled would say "We the best" at this review thing! "Believe dat" (more Khaled). I apologise from now, if I randomly drop a Khaled catch phrase or two during this review. As Love him or hate him, one thing you can't deny about a DJ Khaled offering, apart from his somewhat annoying catch phrases,  over practically every track " We making history"  and things of that nature. The guy clearly knows his way around a mixing desk, and as the president of Def Jam south, dude still clearly knows how to work that contacts list of his.
Now from my point of view, not even the purist rap fan would be able to deny the fact, a DJ Khaled album generally tends to throw up, some of the most iconic and 'monster' Hip Hop collaborations of the year. With his unique formula of getting all the hottest Hip Hop, RnB and now Reggae artists to feature on what's essentially, a compilation album, with Khalid's quirky adlibs all over it of course. (That is putting it nicely)
For example there was 2007's  I'm so hood remix,  taken from the We the best album, which featured everyone, from Busta Rhymes, Lil Wayne, Ludacris, Young Jeezy, Big Boi, Birdman, to Fat Joe and T-Pain.  On 2010's Victory, All I do is win featured T-pain, Ludacris, Rick Ross, and Snoop Dogg, and that was even before Khaled served up a killer remix, featuring the likes of Diddy and Nicki Minaj and himself of course.. rapping (Something never repeated I hope). Then there was last year's standout 'banger' from the We the best forever album, I'm on one featuring Drake, Rick Ross and Lil Wayne.  As well as another 'monster' collaboration for the Welcome to the hood remix,  which again featured a crazy star-studded roster, with the likes of  Twista to Mavado, Ace Hood to the Game, to name a few, lending a few bars a piece.
Now fast-forward to 2012, with Khaled giving us another promising sample of things to come, with his brilliant certified club banger, "Take it to the head" featuring Chris Brown, Rick Ross, and fellow YMCMB label mates, Lil Wayne and Nicki Minaj. Followed closely by the decent yet familiar sounding, "I wish you would"  which features Kanye West and Rick Ross, which to the untrained eye, could easily be misconstrued as a remake of the brilliant "Go hard" again featuring Kanye and T-Pain respectively.
The thing I've noticed with Kiss the ring and in fact, all of Khaled's albums to date are, if you turn over to check out the track listings you can excuse yourself if you're somewhat confused as you are excited, about the prospect of how some of his odd collaborations may sound.  Unfortunately though that excitement you may have, isn't really ever justified as your again soon under the realisation that maybe Khaled doesn't really think too much about the harmony of his tracks, i.e. how each artist potentially compliments each other. Instead, maybe he just puts a bunch of names in a hat and just draws them out at random to see who will feature with whom. As a result, you're given an album with very little relevance, never mind structure, or theme really. Although I suppose when has a Khaled album ever tried to achieve those things? The answer… well never really. As like with every other Khaled album, Kiss the ring is just a glorified compilation album with great promise, and is as about as much fun as the thought of DJ Khaled album of him rapping or even speaking (Scary believe me). Although a tried and tested formula, Khaled sticks by, it's clearly working for him, so I can't knock him, and again he solidly keep churning out 'big boy' hits after 'big boy' hits. As a result, Kiss the ring is at least worth a listen or two, if not for the Nas, premier and Scarface Collabo on the track Hip Hop, then at least for the ridiculous Khaled catch phrases at least "I'm so serious". (In Khaleds' voice)
Kiss the Ring, out now!
Ijah.uglyboy
Follow me @ijah_uglyboy
@uglyboyent